Promoting positive behaviors in your dog.
Creating harmony between pets and their people since 1993
Pet Academy is a local, professional, A+-rated, woman-owned, veteran-owned business–and we are also life-long pet parents!
We provide professional dog training and behavior modification solutions through private and in-home as well as semi-private & group sessions – delivered through positive reinforcement and reward-based, force-free training methods. We do not utilize nor recommend training tools or methods that intimidate, frighten, punish, or inflict pain or physical discomfort.
Meet Lisa, our newest trainer and canine coach
PET ACADEMY, LLC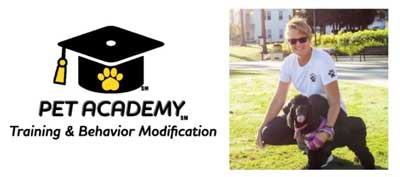 We welcome dogs of all ages, sizes, and breeds (purebred and mixed) in our training programs. We specialize in new puppy good manners, obedience and socialization through our Start Right PuppySM foundation program following the American Kennel Club® AKC S.T.A.R. Puppy® and AKC Canine Good Citizen™ (CGC) program curricula and testing criteria. The CGC program has no age limit; however, we do recommend puppies up to 1 year old – especially those with no prior training – start right with the S.T.A.R. Puppy® program.
We facilitate lifelong learning and fitness opportunities for dogs and their people through a suite of training and enrichment programs offered under the AKC® Family Dog™ umbrella and the Operation Socialization™ Puppy Passport program.
We also provide (in-home) cat and small animal training, wellness, and behavior solutions. And we offer a unique New Pet home consultation (pre- and post-adoption) to address the basic care, environmental, enrichment, and training needs of your new pet, including potty/litter box and crate training methods for success, and habitat placement, introduction, and acclimation. The consultation is especially important when introducing new pets into multi-pet households, homes with children, or when the new pet has "known" special needs and/or limitations.
Memberships/Affiliations
Please contact us to schedule: a complimentary in-home/private training consultation.
Phone: (321) 396-7900
Email: help@petcare.company